Administration of Estates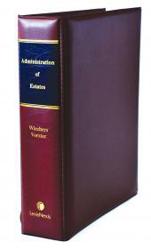 R 2160.00
R 2480.00
SAVE R 320.00
Administration of Estates
N. J. Wiechers, I. Vorster, E. E. Blignaut
Out of Stock
Can Order
Non Refundable
Estimated Dispatch Date:
07 Dec 2023
Administration of Estates
Share:
Description
Administration of Estates is a concise and very practical guide to the administration of deceased estates. Administration of Estates is a great benefit to law students, practitioners and executors of estates. This guide offers valuable insights into managing assets and liabilities, estate duty, and the Liquidation and Distribution account. Originally authored by Wiechers and Vorster, this indispensable resource is a must-have for law students, practitioners, and executors alike. The perfect companion to Wills and Trusts, it provides essential guidance on the administration of estates.
Product Information
ISBN13 (SKU)
006ADMESTASYS
Title
Administration of Estates
Author
N. J. Wiechers, I. Vorster, E. E. Blignaut
Related Products
This product has no related products.