Casio FX-991ZA Plus II Advanced Scientific Calculator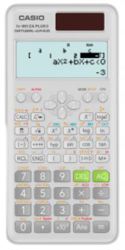 R 740.00
R 850.00
SAVE R 110.00
Casio FX-991ZA Plus II Advanced Scientific Calculator
In Stock (Online, In Store)
Estimated Dispatch Date:
02 Dec 2023
Casio FX-991ZA Plus II Advanced Scientific Calculator
Share:
Description
Developed in collaboration with SA educators for the South African Curriculum. With 403 functions and the revolutionary Natural Textbook Display you are able to enter expressions as seen in your text books. The FX991ES Plus II Advanced Scientific is both solar and battery powered and is equipped with 40 scientific constants. This is the upgraded version of the prior FX991ZA Plus. Specifications: 452 functions Natural Textbook 2-line Display Remainder calculations GCD / LCM Inequality calculations Ratio calculations Prime factorisation Solve functions & Evaluate expressions Integration & Differentiation Sigma calculations 40 scientific constants & 40 metric conversions Q1, Med, Q3 calculations in statistics TP of Quadratic equation Statistics MODE – Data handling and Regression analysis Dual Table MODE (2 functions) Complex number, Base-n, Equation, Matrix & Vector MODES Distribution Calculation MODE
Product Information
ISBN13 (SKU)
4549526609855
Title
Casio FX-991ZA Plus II Advanced Scientific Calculator
Publisher
SMD Technologies
Related Products
This product has no related products.