Sharp EL531WHB-BK Scientific Calculator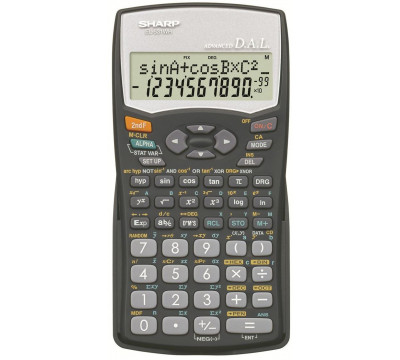 R 180.00
R 210.00
SAVE R 30.00
Sharp EL531WHB-BK Scientific Calculator
Estimated Dispatch Date:
15 Dec 2023
Sharp EL531WHB-BK Scientific Calculator
Share:
Description
The Sharp EL-531WHB is an entry-level scientific calculator for high school learners. It is designed to be durable enough for everyday use. Statistics are made easy by using the STAT mode. A variety of scientific functions such as trigonometry, exponents, time calculations, logarithmic calculations and fraction calculations. Specifications: Large, high resolution, 2-line LCD screen with upper: 12-digit (5x7 - dot matrix) - lower: 10-digit (mantissa) and 2-digit (exponent) Up to 272 scientific and statistical functions Battery-operated (AA x 1) Advanced Direct Algebraic Logic (D.A.L.) for easy equation and answer checking Functions include multi-line playback. Constant, fraction, chain and n-Base calculations
Product Information
ISBN13 (SKU)
4974019024011
Title
Sharp EL531WHB-BK Scientific Calculator
Author
Scientific Calculator
Publisher
SMD Technologies
Institutions
IIE MSA, Varsity College
Course Codes
AATT6312, BUCOF020, BUET6212, ERPL7312, FALA7311, INAC5111, IPMA6212, IQTT5111, PRLD5121, PRMA8421, SPCM7321, SPCM8411, SPCM8421, SQAT6312, SQAT6322, XHEM5119, XHIS5122
Related Products
This product has no related products.