HP 12C Platinum - (Algebraic or RPN) Financial Calculator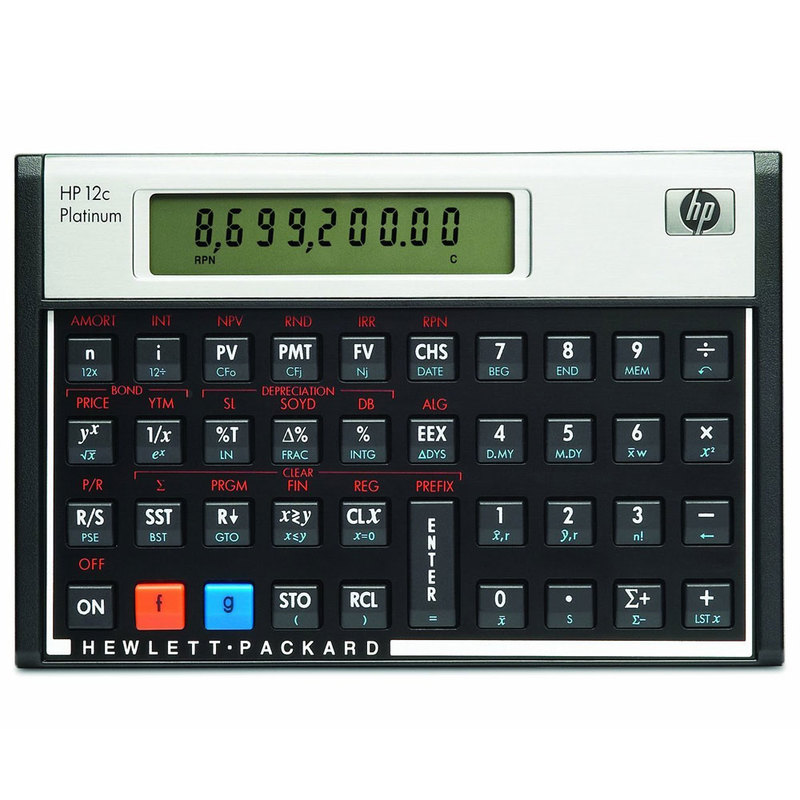 R 2020.00
R 2320.00
SAVE R 300.00
HP 12C Platinum - (Algebraic or RPN) Financial Calculator
Out of Stock
Can Order
Non Refundable
Estimated Dispatch Date:
11 Dec 2023
HP 12C Platinum - (Algebraic or RPN) Financial Calculator
Share:
Description
The HP 12C Platinum Edition is a fast and powerful calculator designed for educators, businessmen, or anyone who needs a reliable tool to handle mathematical and/or financial calculations. With a 400 step memory capacity, the 12C can handle even the most complex computations. For 25 years, the 12C has proven its reputation as the ultimate pocket-size calculator for financial use. The HP 12C Platinum is a faster, enhanced version of the industry-leading 12C, and is designed for the financial professional who demands more options. Its long battery life and small size make it easy to take with you anywhere, and its elegant black and silver design, and engravable metal plate on the back give it a modern, stylish appearance. The 12C Platinum is a powerful tool capable of handling the most complex and detailed analysis and problem solving. With over 130 built-in functions for business, finance, mathematics and statistics including date calculations, this calculator offers fast and reliable programming, finance, and statistical analysis options. With the 12C, you'll enjoy the flexibility of both RPN (Reverse Polish Notation) and algebraic modes of entry, the speed of its processor, and the increased memory capacity.Precision Business and Finance Features Ideal for real estate, finance, accounting, economics and business work, this calculator also helps you perform several key functions that allow you to make financial predictions, balance your budget, or calculate percentages of appreciation or depreciation for mortgages, loans, and savings accounts. Advanced editing features like the new "Undo" and "Backspace" buttons ensure precise calculations, while six times faster speeds for calculating TVM, loan payments, and interest rates help you gather and analyze important data in minutes. You can also pinpoint trends by performing cumulative statistical analysis, standard deviation, mean, weighted mean, and linear regression.
Product Information
ISBN13 (SKU)
882780469709
Title
HP 12C Platinum - (Algebraic or RPN) Financial Calculator
Publisher
SMD Technologies
Related Products
This product has no related products.