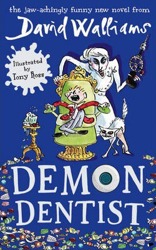 R 270.00
R 310.00
SAVE R 40.00
Out of Stock
Can Order
Non Refundable
Estimated Dispatch Date:
15 Dec 2023
Demon Dentist
Share:
Description
he latest jaw-achingly funny, number-one bestselling novel from David Walliams - now out in paperback. Make your appointment if you dare... Darkness had come to the town. Strange things were happening in the dead of night. Children would put a tooth under their pillow for the tooth fairy, but in the morning they would wake up to find... a dead slug; a live spider; hundreds of earwigs creeping and crawling beneath their pillow. Evil was at work. But who or what was behind it...?
Product Information
ISBN13 (SKU)
9780007453580
Publisher
Harper Collins UK
Country of Publication
United Kingdom
Related Products
This product has no related products.