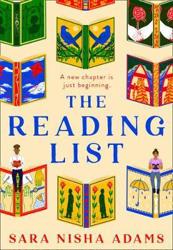 R 470.00
R 540.00
SAVE R 70.00
Out of Stock
Can Order
Non Refundable
Estimated Dispatch Date:
20 Dec 2023
The Reading List
Share:
Description
Louise Hare When Aleisha discovers a crumpled reading list tucked into a tattered library book, it sparks an extraordinary journey. From timeless stories of love and friendship to an epic journey across the Pacific Ocean with a boy and a tiger in a boat, the list opens a gateway to new and wonderful worlds - just when Aleisha needs an escape from her troubles at home. And when widower Mukesh arrives at the library, desperate to connect with his bookworm granddaughter, Aleisha introduces him to the magic of the reading list. An anxious teenager and a lonely grandfather forming an unlikely book club of two.
Product Information
ISBN13 (SKU)
9780008391324
Publisher
Harper Collins UK
Country of Publication
United Kingdom
Related Products
This product has no related products.