On Writing Well: The Classic Guide to Writing Non Fiction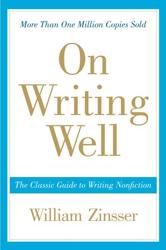 R 350.00
R 400.00
SAVE R 50.00
On Writing Well: The Classic Guide to Writing Non Fiction
In Stock (Order Online)
Non Refundable
Estimated Dispatch Date:
29 Nov 2023
On Writing Well: The Classic Guide to Writing Non Fiction
Share:
Description
On Writing Well is a bible for a generation of writers looking for clues to clean, compelling prose." –New York Times A beloved classic, this definitive volume on the art of writing nonfiction celebrates its thirtieth anniversary. On Writing Well, which grew out of a course that William Zinsser taught at Yale, has been praised for its sound advice, its clarity, and for the warmth of its style. It is a book for anybody who wants to learn how to write or who needs to do some writing to get through the day, as almost everybody does. Whether you want to write about people or places, science and technology, business, sports, the arts, or about yourself in the increasingly popular memoir genre, On Writing Well offers you both fundamental principles as well as the insights of a distinguished practitioner. With over a million copies in print, this volume has stood the test of time and remains a valued resource for writers and would-be writers.
Product Information
ISBN13 (SKU)
9780060891541
Title
On Writing Well: The Classic Guide to Writing Non Fiction
Country of Publication
United States
Related Products
This product has no related products.