Fundamentals of Digital Logic with VHDL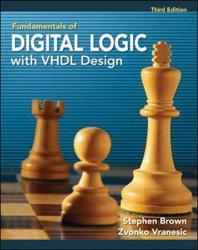 R 4710.00
R 5420.00
SAVE R 710.00
Fundamentals of Digital Logic with VHDL
Out of Stock
Can Order
Non Refundable
Estimated Dispatch Date:
11 Dec 2023
Fundamentals of Digital Logic with VHDL
Share:
Description
Fundamentals of Digital Logic with VHDL Design teaches the basic design techniques for logic circuits. The text ptovides a clear and easily understandable discussion of logic circuit design without the use of unnecessary formalism. It emphasizes the synthesis of circuits and explains how circuits are implemented in real chips. Fundamental concepts are illustrated by using small examples, which are easy to understand. Then, a modular approach is used to show how larger circuits are designed. VHDL is a complex language so it is introduced gradually in the book. Each VHDL feature is presented as it becomes pertinent for the circuits being discussed. While it includes a discussion of VHDL, the book provides thorough coverage of the fundamental concepts of logic circuit design, independent of the use of VHDL and CAD tools. A CD-ROM containg all of the VHDL design examples used in the book, as well Altera's Quartus II CAD software, is included free with every text
Product Information
ISBN13 (SKU)
9780077221430
Title
Fundamentals of Digital Logic with VHDL
Author
S. Brown, Z. Vranesic
Country of Publication
United States
Related Products
This product has no related products.