Niebel's Methods, Standards and Work Design (E-Book)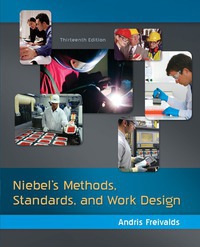 R 890.00
R 1020.00
SAVE R 130.00
Niebel's Methods, Standards and Work Design (E-Book)
A. Freivalds, N. Benjamin
Estimated Dispatch Date:
Access Code mailed within 1 hour of payment confirmation
Niebel's Methods, Standards and Work Design (E-Book)
Share:
Description
This edition addresses the increasing global competition and the fact that every industry, business, and service organization is restructuring itself to operate more effectively. Cost-effectiveness and product reliability without excess capacity are the keys to successful activity in business, industry, and government. These keys are the end results of methods engineering. The 13th edition of Methods, Standards, and Work Design will provide practical, up-to-date descriptions of engineering methods to measure, analyze, and design manual work. The text emphasizes both the manual components and the cognitive aspects of work, recognizing the gradual decline of the manufacturing sector and the growth of the service sector.
Product Information
ISBN13 (SKU)
9780077532789
Title
Niebel's Methods, Standards and Work Design
Author
A. Freivalds, N. Benjamin
Format Type
E-Book - Vitalsource
Related Products
This product has no related products.