Extractive Metallurgy of Copper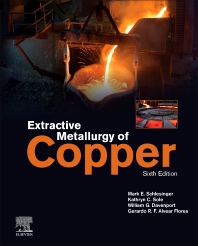 R 3950.00
R 4540.00
SAVE R 590.00
Extractive Metallurgy of Copper
M. E. Schlesinger, K. C. Sole, W. G. Davenport, G. R. F. Alvear
Out of Stock
Can Order
Non Refundable
Estimated Dispatch Date:
18 Dec 2023
Extractive Metallurgy of Copper
Share:
Description
Extractive Metallurgy of Copper, Sixth Edition, expands on previous editions, including sections on orogenesis and copper mineralogy and new processes for efficiently recovering copper from ever-declining Cu-grade mineral deposits. The book evaluates processes for maintaining concentrate Cu grades from lower grade ores. Sections cover the recovery of critical byproducts (e.g., cesium), worker health and safety, automation as a safety tool, and the geopolitical forces that have moved copper metal production to Asia (especially China) and new smelting and refining processes
Product Information
ISBN13 (SKU)
9780128218754
Title
Extractive Metallurgy of Copper
Author
M. E. Schlesinger, K. C. Sole, W. G. Davenport, G. R. F. Alvear
Country of Publication
United Kingdom
Related Products
This product has no related products.