Exploring Microsoft 365: Introductory 2021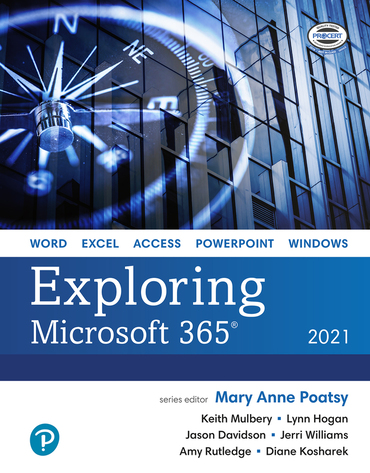 R 1710.00
R 1970.00
SAVE R 260.00
Exploring Microsoft 365: Introductory 2021
M. A. Poatsy, K. Mulbery, L. Hogan, J. Davidson, L. Lau, R. Lawson, J. Williams, A. Rutledge, D. Kosharek
Out of Stock
Can Order
Non Refundable
Estimated Dispatch Date:
18 Dec 2023
Exploring Microsoft 365: Introductory 2021
Share:
Description
Exploring Microsoft® 365, 2021 Edition takes you beyond point-and-click. You'll learn how to use Office apps to achieve specific goals. A market leader for over 20 years, the text is designed to help you master skills through hands-on practice. A dozen exercises in each chapter range from multiple-choice questions to open-ended projects. With self-check opportunities throughout, you'll know exactly what you've learned and precisely what you need to review. The new edition covers Microsoft 365 and Office 2021, is Mac compatible, and reflects today's cloud-based world. New assignments test essential critical thinking skills and a new chapter on Microsoft Teams will prepare you for collaborative remote work.
Product Information
ISBN13 (SKU)
9780137559459
Title
Exploring Microsoft 365: Introductory 2021
Author
M. A. Poatsy, K. Mulbery, L. Hogan, J. Davidson, L. Lau, R. Lawson, J. Williams, A. Rutledge, D. Kosharek