Confessions of an English Opium Eater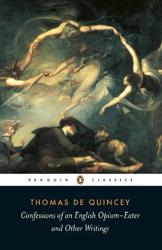 R 180.00
R 210.00
SAVE R 30.00
Confessions of an English Opium Eater
T. De Quincey, B. Milligan
Out of Stock
Can Order
Non Refundable
Estimated Dispatch Date:
11 Dec 2023
Confessions of an English Opium Eater
Share:
Description
A masterpiece of autobiography, and perhaps the first literary memoir of an addict, the Penguin Classics edition of Thomas De Quincey's Confessions of an English Opium-Eater is edited with an introduction by Barry Milligan. Confessions is a remarkable account of the pleasures and pains of worshipping at the 'Church of Opium'. Thomas De Quincey consumed daily large quantities of laudanum (at the time a legal painkiller), and this autobiography of addiction hauntingly describes his surreal visions and hallucinatory nocturnal wanderings through London, along with the nightmares, despair and paranoia to which he became prey.
Product Information
ISBN13 (SKU)
9780140439014
Title
Confessions of an English Opium Eater
Author
T. De Quincey, B. Milligan
Publisher
Penguin Random House SA
Country of Publication
United Kingdom
Related Products
This product has no related products.