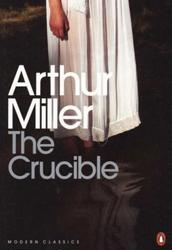 R 210.00
R 240.00
SAVE R 30.00
Out of Stock
Can Order
Non Refundable
Estimated Dispatch Date:
11 Dec 2023
The Crucible
Share:
Description
Miller's chilling classic of collective paranoia and retribution, widely interpreted as a critique of Hoover's hysterical hunt for Communists in post-war America. In 1692, the forces of revenge and superstition envelop the town of Salem, Massachusetts, and eventually even the most upstanding and innocent of townspeople are forced to confess to witchcraft and denounce one another to save their own lives, as the hysterical fantasies of a group of young girls run wildly out of control.
Product Information
ISBN13 (SKU)
9780141182551
Publisher
Penguin Random House SA
Country of Publication
United Kingdom
Related Products
This product has no related products.