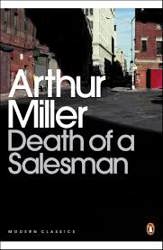 R 190.00
R 220.00
SAVE R 30.00
Out of Stock
Stock on the Way
Estimated Dispatch Date:
01 Dec 2023
Death of a Salesman
Share:
Description
Arthur Miller's extraordinary masterpiece, Death of a Salesman changed the course of modern theatre, and has lost none of its power as an examination of American life. 'A man is not an orange. You can't eat the fruit and throw the peel away' Willy Loman is on his last legs. Failing at his job, dismayed at his the failure of his sons, Biff and Happy, to live up to his expectations, and tortured by his jealousy at the success and happiness of his neighbour Charley and his son Bernard, Willy spirals into a well of regret, reminiscence, and A scathing indictment of the ultimate failure of the American dream, and the empty pursuit of wealth and success, is a harrowing journey. In creating Willy Loman, his destructively insecure anti-hero, Miller defined his aim as being 'to set forth what happens when a man does not have a grip on the forces of life'.
Product Information
ISBN13 (SKU)
9780141182742
Title
Death of a Salesman
Publisher
Penguin Random House SA
Country of Publication
United Kingdom
Related Products
This product has no related products.