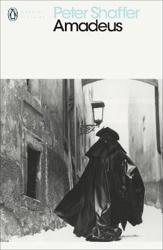 R 220.00
R 250.00
SAVE R 30.00
Out of Stock
Can Order
Non Refundable
Estimated Dispatch Date:
11 Dec 2023
Amadeus
Share:
Description
Wolfgang Amadeus Mozart is a genius, the most brilliant musician the world will ever see. But the court of eighteenth-century Vienna doesn't recognize his talents - only Antonio Salieri, the Court Composer, does, and he is tortured by what he hears. Seething with rage at the genius of this flippant buffoon and suddenly aware of his own mediocrity, Salieri declares war and sets out to destroy the man he sees as God's instrument on earth. Peter Shaffer's award-winning play is a rich, exuberant portrayal of a God-like man among mortals, and lives destroyed by envy.
Product Information
ISBN13 (SKU)
9780141188898
Publisher
Penguin Random House SA
Country of Publication
United Kingdom
Related Products
This product has no related products.