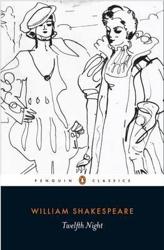 R 180.00
R 210.00
SAVE R 30.00
W. Shakespeare, M. Dobson
Out of Stock
Can Order
Non Refundable
Estimated Dispatch Date:
04 Dec 2023
Twelfth Night
Share:
Description
One of the best-loved comedies ever written, Twelfth Night is perhaps Shakespeare's most lyrical as well as most experimental play. This Penguin Shakespeare edition is edited by M. M. Mahood with an introduction by Michael Dobson. 'If music be the food of love, play on...' Separated from her twin brother Sebastian after a shipwreck, Viola disguises herself as a boy to serve the Duke of Illyria. Wooing a countess on his behalf, she is stunned to find herself the object of his beloved's affections. With the arrival of Viola's brother, and a trick played upon the countess's steward, confusion reigns in this romantic comedy of mistaken identity. This book contains a general introduction to Shakespeare's life and Elizabethan theatre, a separate introduction to Twelfth Night, a chronology, suggestions for further reading, an essay discussing performance options on both stage and screen, and a commentary.
Product Information
ISBN13 (SKU)
9780141396446
Author
W. Shakespeare, M. Dobson
Publisher
Penguin Random House SA
Country of Publication
United Kingdom
Institutions
University of Pretoria
Related Products
This product has no related products.