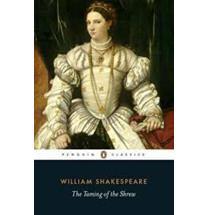 R 170.00
R 200.00
SAVE R 30.00
Estimated Dispatch Date:
04 Dec 2023
Taming of the Shrew
Share:
Description
The beautiful but sharp-tongued 'shrew' Katherina has sworn never to accept the demands of any would-be husband. Her younger sister Bianca, meanwhile, is forbidden to be married until Katherina finds a suitable match - much to the dismay of Bianca's suitors, Hortensio and Gremio. A relentlessly witty battle of the sexes, William Shakespeare's comedy The Taming of the Shrew is edited by G.R. Hibbard, with an introduction by Margaret Jane Kidnie in Penguin Shakespeare.
Product Information
ISBN13 (SKU)
9780141396583
Title
Taming of the Shrew
Publisher
Penguin Random House SA
Country of Publication
United Kingdom
Institutions
IIE MSA, Varsity College
Related Products
This product has no related products.