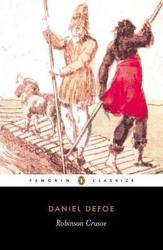 R 170.00
R 200.00
SAVE R 30.00
Out of Stock
Can Order
Non Refundable
Estimated Dispatch Date:
07 Dec 2023
Robinson Crusoe
Share:
Description
The sole survivor of a shipwreck, Robinson Crusoe is washed up on a desert island. In his journal he chronicles his daily battle to stay alive, as he conquers isolation, fashions shelter and clothes, enlists the help of a native islander who he names 'Friday', and fights off cannibals and mutineers. Written in an age of exploration and enterprise, it has been variously interpreted as an embodiment of British imperialist values, as a portrayal of 'natural man', or as a moral fable. But above all is a brilliant narrative, depicting Crusoe's transformation from terrified survivor to self-sufficient master of an island.
Product Information
ISBN13 (SKU)
9780141439822
Publisher
Penguin Random House SA
Country of Publication
United Kingdom
Related Products
This product has no related products.