Principles of Sport Management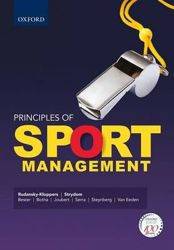 R 490.00
R 560.00
SAVE R 70.00
Principles of Sport Management
L. Steynberg, E. Botha, Y. Joubert, T. van Eeden, P. Bester, P. Serra
Estimated Dispatch Date:
11 Jul 2022
Principles of Sport Management
Share:
Description
Principles of Sport Management is a subject taught at various levels to students doing a degree or diploma in Sport Management. This textbook will look at the theoretical background on various management concepts such as the sporting environmental model, SWOT analysis, planning, organising, leading and control. The content will deal extensively with the legal aspects of sport management within a South African context and cover the functional areas of management by looking at the marketing function, the financial management function and the human resource function.
Product Information
ISBN13 (SKU)
9780190400590
Title
Principles of Sport Management
Author
L. Steynberg, E. Botha, Y. Joubert, T. van Eeden, P. Bester, P. Serra
Publisher
Oxford University press
Country of Publication
South Africa
Institutions
NWU, University of Pretoria
Course Codes
JMB122, JMB222