The Law of Contract in South Africa (E-Book)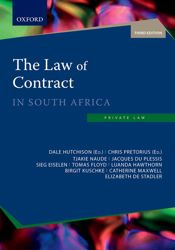 R 700.00
R 800.00
SAVE R 100.00
The Law of Contract in South Africa (E-Book)
D. Hutchison, C. Pretorius
Estimated Dispatch Date:
Access Code mailed within 1 hour of payment confirmation
The Law of Contract in South Africa (E-Book)
Share:
Description
The Law of Contract in South Africa, third edition, offers a concise, accessible and rigorous introduction to the general principles of contract law in South Africa. The text presents fundamental principles within a clear and applied framework, and supports independent, enquiring and critical engagement with the subject matter. The third edition introduces a stronger focus on the impact of the Constitution upon contract law, specifically in relation to good faith, equity and public policy in contract, unfair contracts and unfair enforcement of a contract, and contains a substantially reworked chapter on contractual interpretation in light of recent developments.
Product Information
ISBN13 (SKU)
9780190417529
Title
The Law of Contract in South Africa
Author
D. Hutchison, C. Pretorius
Publisher
Oxford University press
Country of Publication
South Africa
Format Type
E-Book - Vitalsource
Institutions
Varsity College
Related Products
This product has no related products.