South African Politics: an Introduction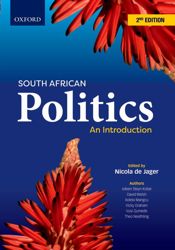 R 610.00
R 700.00
SAVE R 90.00
South African Politics: an Introduction
J. Steyn Kotze, D. Welsh, X. Mangcu, V. Graham, V. Gumede, T. Neethling
Estimated Dispatch Date:
10 Dec 2023
South African Politics: an Introduction
Share:
Description
Is South Africa's democracy consolidating or is it part of the third wave of democratic reversals? Do you understand the structure and functions of the various spheres of the South African government and the importance of the 1996 Constitution? What role did women play in the South African journey to democracy? What are the socio-economic contexts of political life in South Africa? Why were civil society, the independent media and the Public Protector so important for South African society during the nine years of state capture? How has the political landscape changed in South Africa following the 2019 national elections?
Product Information
ISBN13 (SKU)
9780190734497
Title
South African Politics: an Introduction
Author
J. Steyn Kotze, D. Welsh, X. Mangcu, V. Graham, V. Gumede, T. Neethling
Publisher
Oxford University press
Country of Publication
South Africa
Institutions
STADIO, Akademia, IIE MSA
Course Codes
GPOLI150, SADD7312