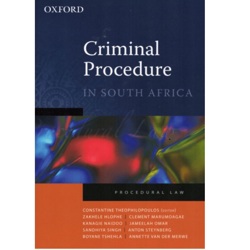 R 550.00
R 630.00
SAVE R 80.00
C. Theophilopoulos, J. Omar, B. Tshehla, C. Marumoagae
Out of Stock
Can Order
Non Refundable
Estimated Dispatch Date:
11 Jul 2022
Criminal Procedure
Description
Criminal Procedure in South Africa offers a concise, accessible and applied introduction to the theory and practice of criminal procedure. The work serves as a systematic guide to the various stages of the procedural system, and is designed to enable mastery of the rules, basic legal tests and practical steps that are required to implement various criminal procedures. Clear, structured explanation is supported by step-by-step, practical guidelines, relevant case law discussions, critical commentary and concise analysis of critical legal tests. Numerous diagrams support readers comprehension, and precedents and other practical use documents offer valuable tools to guide readers in their applied practice.
Product Information
ISBN13 (SKU)
9780190740245
Author
C. Theophilopoulos, J. Omar, B. Tshehla, C. Marumoagae
Publisher
Oxford University press
Country of Publication
South Africa
Related Products
This product has no related products.