Contemporary Issues in Human Resource Management (E-Book)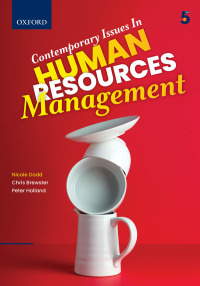 R 560.00
R 640.00
SAVE R 80.00
Contemporary Issues in Human Resource Management (E-Book)
W. Chinyamurindi A. Cox B. de Villiers B. Robinson R. Bothma A. Mazingi
Estimated Dispatch Date:
Access Code mailed within 1 hour of payment confirmation
Contemporary Issues in Human Resource Management (E-Book)
Share:
Description
What does remote working mean for employees and HRM? How do self-managed teams function? What kind of HR leadership is required in the current work context? What is the role of HRM to ensure an agile organisation? Contemporary Issues in Human Resources Management 5e is a stimulating textbook aimed at senior undergraduate human resource students. This new edition offers an integrated approach, applying seminal and contemporary theory and frameworks to the working world of HRM that is situated in the 21st century. It discusses the impact on organisations of the current, often disruptive, external environment, including that of the Fourth Industrial Revolution and Covid-19. The textbook is written by a group of international and local authors, as well as HRM practitioners and presents the latest developments within the field of HRM.
Product Information
ISBN13 (SKU)
9780190741754
Title
Contemporary Issues in Human Resource Management
Author
W. Chinyamurindi A. Cox B. de Villiers B. Robinson R. Bothma A. Mazingi
Publisher
Oxford University press
Format Type
E-Book - Vitalsource
Related Products
This product has no related products.