International Human Rights Law in Africa (E-Book)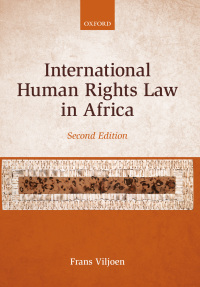 R 2870.00
R 3300.00
SAVE R 430.00
International Human Rights Law in Africa (E-Book)
Estimated Dispatch Date:
Access Code mailed within 1 hour of payment confirmation
International Human Rights Law in Africa (E-Book)
Share:
Description
This book provides a comprehensive and analytical overview of human rights law in Africa. It examines the institutions, norms, and processes for human rights realization provided for under the United Nations system, the African Union, and sub-regional economic communities in Africa, and explores their relationship with the national legal systems of African states. Since the establishment of the African Union in 2001, there has been a proliferation of regional institutions that are relevant to human rights in Africa. These include the Pan African Parliament, the Peace and Security Council, the Economic, Social and Cultural Council and the African Peer Review Mechanism of the New Partnership for Africa's Development. This book discusses the links between these institutions. It further examines the case law stemming from Africa' most important human rights instrument, the African Charter on Human and Peoples Rights, which entered into force on 21 October 1986. This new edition contains a new chapter on the African Children's Rights Committee as well as full coverage of new developments and instruments, such as the Convention on the Rights of Persons with Disabilities, the Convention on Enforced Disappearances, and the African Charter on Democracy, Elections and Governance. Three cross-cutting themes are explored throughout the book: national implementation and enforcement of international human rights law; legal and other forms of integration; and the role of human rights in the eradication of poverty. The book also provides an introduction to the relevant human rights concepts.
Product Information
ISBN13 (SKU)
9780191626838
Title
International Human Rights Law in Africa
Format Type
E-Book - Vitalsource
Related Products
This product has no related products.