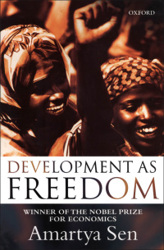 R 200.00
R 230.00
SAVE R 30.00
Out of Stock
Can Order
Non Refundable
Estimated Dispatch Date:
04 Dec 2023
Development As Freedom
Share:
Description
In Development as Freedom Amartya Sen explains how in a world of unprecedented increase in overall opulence millions of people living in the Third World are still unfree. Even if they are not technically slaves, they are denied elementary freedoms and remain imprisoned in one way or another by economic poverty, social deprivation, political tyranny or cultural authoritarianism. The main purpose of development is to spread freedom and its 'thousand charms' to the unfree citizens. Freedom, Sen persuasively argues, is at once the ultimate goal of social and economic arrangements and the most efficient means of realizing general welfare. Social institutions like markets, political parties, legislatures, the judiciary, and the media contribute to development by enhancing individual freedom and are in turn sustained by social values.
Product Information
ISBN13 (SKU)
9780192893307
Title
Development As Freedom
Publisher
Oxford University press
Related Products
This product has no related products.