Paedeia The Ideals Of Greek Culture Vol2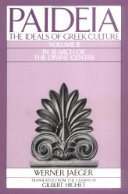 R 2110.00
R 2430.00
SAVE R 320.00
Paedeia The Ideals Of Greek Culture Vol2
Out of Stock
Can Order
Non Refundable
Estimated Dispatch Date:
14 Jul 2022
Paedeia The Ideals Of Greek Culture Vol2
Share:
Description
Werner Jaeger's classic three-volume work, originally published in 1939, is now available in paperback. Paideia, the shaping of Greek character through a union of civilization, tradition, literature, and philosophy is the basis for Jaeger's evaluation of Hellenic culture. Volume I describes the foundation, growth, and crisis of Greek culture during the archaic and classical epochs, ending with the collapse of the Athenian empire. The second and third volumes of the work deal with the intellectual history of ancient Greece in the Age of Plato, the 4th century B.C.—the age in which Greece lost everything that is valued in this world—state, power, liberty—but still clung to the concept of paideia. As its last great poet, Menander summarized the primary role of this ideal in Greek culture when he said: "The possession which no one can take away from man is paideia."
Product Information
ISBN13 (SKU)
9780195040470
Title
Paedeia The Ideals Of Greek Culture Vol2
Publisher
Oxford University press
Country of Publication
United States
Related Products
This product has no related products.