A History of Architecture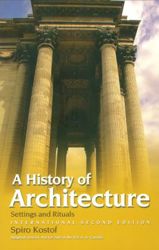 R 1800.00
R 2070.00
SAVE R 270.00
A History of Architecture
S. Kostof, G. Castillo, R. Tobias
Out of Stock
Can Order
Non Refundable
Estimated Dispatch Date:
04 Dec 2023
A History of Architecture
Share:
Description
When the late Spiro Kostof's A History of Architecture appeared in 1985, it was universally hailed as a masterpiece--one of the finest books on architecture ever written. Now, updated and expanded, this classic reference continues to bring to readers the full array of civilization's architectural achievements. Insightful, engagingly written, and graced with close to a thousand superb illustrations, the International Second Edition of this extraordinary volume offers a sweeping narrative that examines architecture as it reflects the social, economic, and technological aspects of human history.
Product Information
ISBN13 (SKU)
9780195399837
Title
A History of Architecture
Author
S. Kostof, G. Castillo, R. Tobias
Publisher
Oxford University press
Country of Publication
United States
Related Products
This product has no related products.