Project X Origins: Pink Book Band, Oxford Level 1+: My Family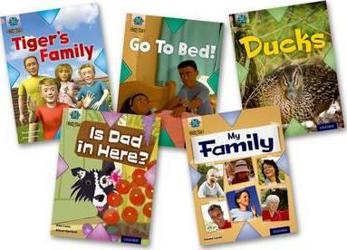 R 440.00
R 510.00
SAVE R 70.00
Project X Origins: Pink Book Band, Oxford Level 1+: My Family
S. Rayner, A. Lane, E. Lynch, J. Tregenza, A. Smith
Out of Stock
Can Order
Non Refundable
Estimated Dispatch Date:
14 Dec 2023
Project X Origins: Pink Book Band, Oxford Level 1+: My Family
Share:
Description
Project X Origins is a ground-breaking guided reading programme for the whole school. Action-packed stories, fascinating non-fiction and comprehensive guided reading support meet the needs of children at every stage of their reading development. Project X Origins guided reading notes offer step-by-step teaching support for each book with guidance about phonics, comprehension, vocabulary, fluency, spelling, grammar, punctuation and writing. Each set of notes has in-built assessment and is fully correlated to all UK curricula. Each book contains inside cover notes that highlight challenge words, prompt questions and a range of follow-up activities to support children in their reading. This pack contains 1 set of guided reading notes and 5 reading books, 1 of each of: Tiger's Family, Go to Bed!, Ducks, Is Dad in Here?, My Family.
Product Information
ISBN13 (SKU)
9780198300571
Title
Project X Origins: Pink Book Band, Oxford Level 1+: My Family
Author
S. Rayner, A. Lane, E. Lynch, J. Tregenza, A. Smith
Publisher
Oxford University press
Country of Publication
United Kingdom
Related Products
This product has no related products.