Project X Origins: Lime Book Band, Oxford Level 11: Underground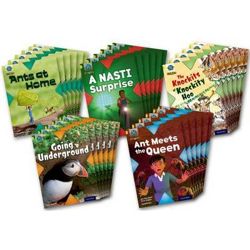 R 4640.00
R 5340.00
SAVE R 700.00
Project X Origins: Lime Book Band, Oxford Level 11: Underground
J. Burchett, T. Bradman, H. Middleton, M. Haselhurst, J. Malam, A. Derry, S. Vogler
Out of Stock
Can Order
Non Refundable
Estimated Dispatch Date:
06 Dec 2023
Project X Origins: Lime Book Band, Oxford Level 11: Underground
Share:
Description
Project X Origins is a ground-breaking guided reading programme for the whole school. Action-packed stories, fascinating non-fiction and comprehensive guided reading support meet the needs of children at every stage of their reading development. Each book contains inside cover notes that highlight challenge words, prompt questions and a range of follow-up activities to support children in their reading. Project X Origins guided reading notes offer step-by-step teaching support for each book with guidance about phonics, comprehension, vocabulary, fluency, spelling, grammar, punctuation and writing. Each set of notes has in-built assessment and is fully correlated to all UK curricula. This pack contains 1 set of guided reading notes and 30 reading books, 6 of each of: Ant Meets the Queen, A NASTI Surprise, Ants at Home, The Knockits of Knockity Hoo, Going Underground.
Product Information
ISBN13 (SKU)
9780198302414
Title
Project X Origins: Lime Book Band, Oxford Level 11: Underground
Author
J. Burchett, T. Bradman, H. Middleton, M. Haselhurst, J. Malam, A. Derry, S. Vogler
Publisher
Oxford University press
Country of Publication
United Kingdom
Related Products
This product has no related products.