Oxford Reading Tree inFact: Oxford Level 1+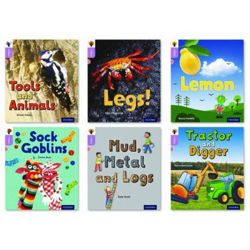 R 390.00
R 450.00
SAVE R 60.00
Oxford Reading Tree inFact: Oxford Level 1+
A. Hawes, A. Claybourne, B. Heddle, E. Boor, K. Scott, K. McFarlane
Out of Stock
Can Order
Non Refundable
Estimated Dispatch Date:
11 Dec 2023
Oxford Reading Tree inFact: Oxford Level 1+
Share:
Description
Oxford Reading Tree inFact is a compelling non-fiction series that aims to engage children in reading for pleasure as powerfully as fiction does. The series includes 36 titles which are all phonically decodable, with some high-interest topic words to develop vocabulary and impart knowledge. The imaginative approach and variety of intriguing topics mean there are books to interest every child. The books are carefully levelled, making it easy to match every reader to the right book. This pack contains six books, one of each of the following titles: Tools and Animals, Legs!, Lemon, Sock Goblins, Mud, Metal and Logs and Tractor and Digger.
Product Information
ISBN13 (SKU)
9780198370727
Title
Oxford Reading Tree inFact: Oxford Level 1+
Author
A. Hawes, A. Claybourne, B. Heddle, E. Boor, K. Scott, K. McFarlane
Publisher
Oxford University press
Country of Publication
United Kingdom
Related Products
This product has no related products.