Oxford Reading Tree Songbirds Phonics: Level 5: Mixed Pack of 6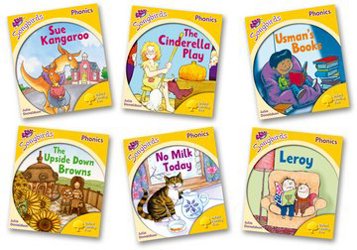 R 390.00
R 450.00
SAVE R 60.00
Oxford Reading Tree Songbirds Phonics: Level 5: Mixed Pack of 6
Out of Stock
Can Order
Non Refundable
Estimated Dispatch Date:
11 Dec 2023
Oxford Reading Tree Songbirds Phonics: Level 5: Mixed Pack of 6
Share:
Description
Oxford Reading Tree Songbirds Phonics are highly decodable, beautifully illustrated stories written by best-selling author Julia Donaldson. The series contains a variety of storylines, rhyme, rhythm and genre ensuring there is something for every child to enjoy. The rich, patterned language in the stories is decodable making them perfect for children to practise their phonics. Songbirds Phonics can be used as a complete phonics programme, or the individual books can be used for phonics practice alongside any other phonics programme. Level 5 Songbirds Phonics books focus on different spelling patterns for the long vowel sounds oo as in moon, oo as in good, ow as in down, oi as in coin and soft c as in dice. This pack contains 6 books, one of each of: Sue Kangaroo, The Cinderella Play, Usman's Books, The Upside-down Browns, Leroy, No Milk Today. Each book contains inside cover notes to support parents/carers with their children's phonics practice and comprehension.
Product Information
ISBN13 (SKU)
9780198388623
Title
Oxford Reading Tree Songbirds Phonics: Level 5: Mixed Pack of 6
Publisher
Oxford University press
Country of Publication
United Kingdom
Related Products
This product has no related products.