Oxford Reading Tree: Treetops Time Chronicles Stage 12+ Pack of 6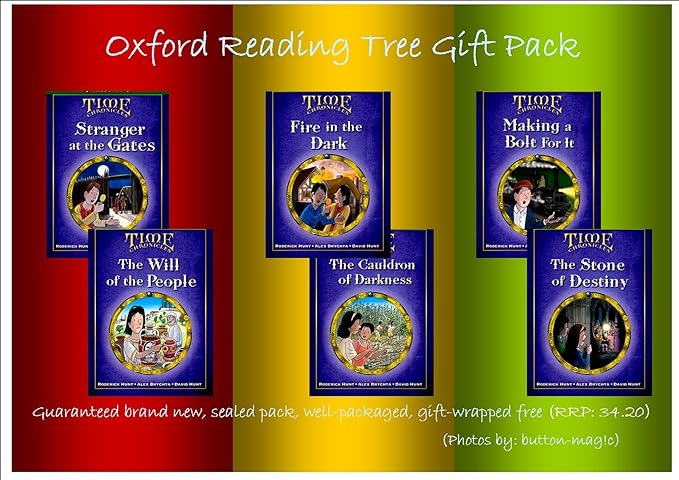 R 750.00
R 860.00
SAVE R 110.00
Oxford Reading Tree: Treetops Time Chronicles Stage 12+ Pack of 6
R. Hunt, D. Hunt, A. Brychta
Out of Stock
Can Order
Non Refundable
Estimated Dispatch Date:
04 Dec 2023
Oxford Reading Tree: Treetops Time Chronicles Stage 12+ Pack of 6
Share:
Description
There are 6 titles at Stage 12+: Fire in the Dark Nadim and Neena travel back to 1666 and find themselves in the midst of the Great Fire of London! Can they foil the Virans' evil plan before history changes forever? Making a Bolt For It Chip, Kipper and Wilma hunt down the Virans who are trying to destroy bridges, railway engines and even human lives! Can they prevent the Virans from sabotaging the whole Industrial Revolution? The Will of the People Neena and Wilf face one of their hardest challenges yet in Ancient Greece. A Viran is trying to prevent the rebuilding of the Parthenon. Can the Time Runners stop him before it's too late? The Stone of Destiny The Time Runners battle to stop a fiendish Viran plan to steal the Scottish Stone of Destiny. If they fail, the history of Scotland could be at stake ... Stranger at the Gates Biff and Chip are caught up in a battle between Vikings and Saxons. King Alfred the Great wants peace, but there's a Viran who will do anything to stop him ... The Cauldron of Darkness It's history ... but this time it's personal! The Virans strike closer to the Time Runners than ever before in this exciting adventure set at the time of the slave trade in the Caribbean.
Product Information
ISBN13 (SKU)
9780198475651
Title
Oxford Reading Tree: Treetops Time Chronicles Stage 12+ Pack of 6
Author
R. Hunt, D. Hunt, A. Brychta
Publisher
Oxford University press
Related Products
This product has no related products.