Oxford Handbook of Clinical Surgery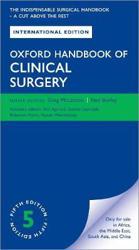 R 460.00
R 530.00
SAVE R 70.00
Oxford Handbook of Clinical Surgery
A. Agarwal, S. Jeyarajah, R. Harris, R. Weerakkody
Estimated Dispatch Date:
11 Dec 2023
Oxford Handbook of Clinical Surgery
Share:
Description
The fifth edition of this bestselling Oxford Medical Handbook is now even better than ever, with the inclusion of three new chapters on day case surgery, remote and rural surgery, and emergency surgery. It has been thoroughly revised with the latest guidelines, management algorithms, and guidance on decision-making. Now with the editorial team expanded to include four new associate editors, this new edition provides an accessible pocket reference for surgical trainees, medical students, and all those involved in the care of the surgical patient. It is thoroughly comprehensive, without sacrificing the clear, concise, and quick-reference style the Oxford Medical Handbooks are known for
Product Information
ISBN13 (SKU)
9780198816355
Title
Oxford Handbook of Clinical Surgery
Author
A. Agarwal, S. Jeyarajah, R. Harris, R. Weerakkody
Publisher
Oxford University press
Country of Publication
United Kingdom
Related Products
This product has no related products.