Dean and Dyer's Introduction to Intellectual Property Law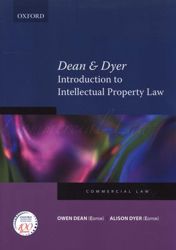 R 530.00
R 610.00
SAVE R 80.00
Dean and Dyer's Introduction to Intellectual Property Law
H. Blignaut, M. Van Der Merwe, M. Reimers
Estimated Dispatch Date:
02 Dec 2023
Dean and Dyer's Introduction to Intellectual Property Law
Share:
Description
Authored as a collaboration between Spoor & Fisher and the Anton Mostert Chair of Intellectual Property at Stellenbosch University, Dean and Dyer's Digest of Intellectual Property Law presents a substantial, engaging and applied first course in intellectual property law. The text provides a thorough and accessible introduction to the broad spectrum of intellectual property law in South Africa, including intellectual property in the digital environment. The text brings the value of practical expertise together with an enquiring, analytical and critical approach, resulting in a dynamic and indispensable reference. The text offers a clear pedagogical structure, which supports learning and develops independent, critical and reflective engagement with the subject matter.
Product Information
ISBN13 (SKU)
9780199045792
Title
Dean and Dyer's Introduction to Intellectual Property Law
Author
H. Blignaut, M. Van Der Merwe, M. Reimers
Publisher
Oxford University press
Country of Publication
South Africa
Institutions
UNISA, University of Pretoria, Wits, Akademia, IIE MSA, Varsity College
Course Codes
INPL6211, INPL7312, INPL7322*, RIGRG370