Teaching Life Orientation: Senior and FET phases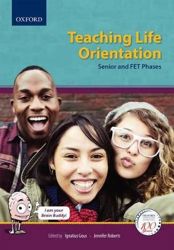 R 530.00
R 610.00
SAVE R 80.00
Teaching Life Orientation: Senior and FET phases
Estimated Dispatch Date:
30 Nov 2023
Teaching Life Orientation: Senior and FET phases
Share:
Description
What are the different roles of a Life Orientation teacher? How can new techniques and mindsets help you to fulfil these roles in an effective and balanced way? What is metacognition? How can you teach learners to benefit from metacognition in their lives, learning and work? Teaching Life Orientation aims to assist student teachers to develop and build skills which will enable them to provide confident classroom instruction across the broad scope of the Life Orientation curriculum.
Product Information
ISBN13 (SKU)
9780199053643
Title
Teaching Life Orientation: Senior and FET phases
Author
I. Gous, J. Roberts
Publisher
Oxford University press
Country of Publication
South Africa
Institutions
Akademia, Rosebank College, Varsity College
Course Codes
OLEVN172, SPDL7111