African Customary Law (E-Book)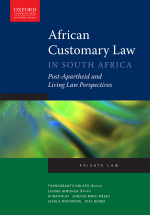 R 600.00
R 690.00
SAVE R 90.00
African Customary Law (E-Book)
Estimated Dispatch Date:
Access Code mailed within 1 hour of payment confirmation
African Customary Law (E-Book)
Share:
Description
African Customary Law in South Africa: Post-Apartheid and Living Law Perspectives provides a clear introduction to African customary law in South Africa. The text provides a structure for understanding the nature and overarching system of customary law, illustrating the distinctness of African customary law in relation to other areas of South African law. It explores the dynamic, foundational precepts and values of living customary law, which are vital to understanding the role and application of this system of law.
Product Information
ISBN13 (SKU)
9780199054435
Title
African Customary Law
Publisher
Oxford University press
Country of Publication
South Africa
Format Type
E-Book - Vitalsource
Related Products
Physical Copy