Getting Practical: a Guide to Teaching and Learning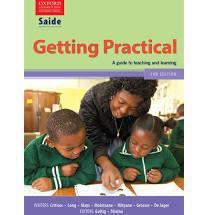 R 520.00
R 600.00
SAVE R 80.00
Getting Practical: a Guide to Teaching and Learning
T. Mays, M. Grosser, L. de Jager, C. Criticos, L. Long, R. Moletsane, N. Mtiyane
Estimated Dispatch Date:
06 Dec 2023
Getting Practical: a Guide to Teaching and Learning
Share:
Description
SAIDE getting practical: A professional studies guide to teaching and learning equips South African teachers with strategies to cope with the demands of the classroom. With content that is practical and relevant in its approach, the book aims to develop the skills required to teach in a thoughtful and learning-centered manner. SAIDE getting practical is aimed at undergraduate and postgraduate students taking courses in Professional Studies or doing Teaching practice modules.
Product Information
ISBN13 (SKU)
9780199055357
Title
Getting Practical: a Guide to Teaching and Learning
Author
T. Mays, M. Grosser, L. de Jager, C. Criticos, L. Long, R. Moletsane, N. Mtiyane
Publisher
Oxford University press
Country of Publication
South Africa
Institutions
North-West University, Akademia, Stadio
Course Codes
CRP102, DL-CRP102, DL-EDU202, EDU202, OAPGI162