Schooling, Society and Inclusive Education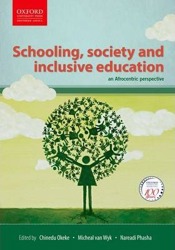 R 380.00
R 440.00
SAVE R 60.00
Schooling, Society and Inclusive Education
E. Lombard, M. Mukwambo, K. M. Ngcoza, C. I. O. Okeke, C. Chikunda, N. A. Boaduo, N. P. Sotuku, N. S. Duku, M. Wyk, R. Tabane
Out of Stock
Can Order
Non Refundable
Estimated Dispatch Date:
04 Dec 2023
Schooling, Society and Inclusive Education
Share:
Description
The book discusses the interrelated dynamics of schooling, society and inclusive education, focussing on the knowledge and skills Teacher Education students need to make sense of their professional and social environment and to engage with the realities of schooling in South Africa and Africa. The book comprises three parts of 17 chapters. Part one looks at various theories in education and their applications to teaching and learning in the context of oriental and indigenous theories in education. Theories are presented in such a way as to enable students to understand, as well as to know how to apply theories to their everyday classroom experience. Part two of this book focusses on the child and environmental dynamics.
Product Information
ISBN13 (SKU)
9780199077809
Title
Schooling, Society and Inclusive Education
Author
E. Lombard, M. Mukwambo, K. M. Ngcoza, C. I. O. Okeke, C. Chikunda, N. A. Boaduo, N. P. Sotuku, N. S. Duku, M. Wyk, R. Tabane
Publisher
Oxford University press
Country of Publication
South Africa
Related Products
This product has no related products.