Little Oxford Dictionary and Thesaurus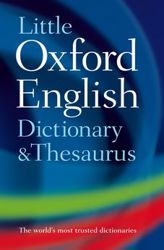 R 240.00
R 280.00
SAVE R 40.00
Little Oxford Dictionary and Thesaurus
Out of Stock
Can Order
Non Refundable
Estimated Dispatch Date:
11 Dec 2023
Little Oxford Dictionary and Thesaurus
Share:
Description
Tired of flipping back and forth between a dictionary and a thesaurus, searching for just the right word? This second edition of the Little Oxford Dictionary and Thesaurus, combines (joins, unifies, links, connects, integrates, merges, etc.) two superb language resources, allowing users to find both definitions and synonyms under the same entry quickly and easily. Available in the US for the first time, this dictionary and thesaurus is the smallest hardback in the Oxford range, offering a convenient, compact, and portable reference book to help with studies, everyday language problems, or cross-word puzzles and other word games, wherever you happen to be. The easy-to-use layout places the thesaurus entry for a word directly alongside the dictionary entry so that you no longer have to search the page to find the word you're looking for.
Product Information
ISBN13 (SKU)
9780199534814
Title
Little Oxford Dictionary and Thesaurus
Publisher
Oxford University press
Country of Publication
United Kingdom
Related Products
This product has no related products.