Children's Literature: A Very Short Introduction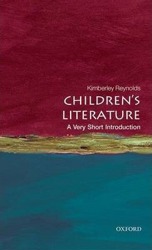 R 120.00
R 140.00
SAVE R 20.00
Children's Literature: A Very Short Introduction
Out of Stock
Can Order
Non Refundable
Estimated Dispatch Date:
18 Aug 2022
Children's Literature: A Very Short Introduction
Share:
Description
Children's literature takes many forms - works adapted for children in antiquity, picture books and pop-ups - and now includes the latest online games and eBooks. This vast and amorphous subject is both intimately related to other areas of literary and cultural investigation but also has its own set of concerns, issues and challenges. From familiar authors including Beatrix Potter and Roald Dahl, classic books such as Pooh, Alice in Wonderland, and The Secret Garden, to modern works including Harry Potter and the Twilight series, thisVery Short Introduction provides an overview of the history of children's literature as it has developed in English, whilst at the same time introducing key debates, developments, and figures in the field.
Product Information
ISBN13 (SKU)
9780199560240
Title
Children's Literature: A Very Short Introduction
Publisher
Oxford University press
Country of Publication
United Kingdom
Course Codes
ENG2613, ENG2614
Related Products
This product has no related products.