Animal Physiology: an Environmental Perspective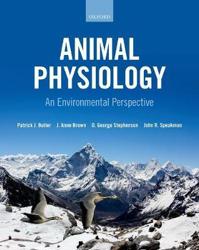 R 1320.00
R 1520.00
SAVE R 200.00
Animal Physiology: an Environmental Perspective
P. Butler, A. Brown, G. Stephenson, J. Speakman
Out of Stock
Can Order
Non Refundable
Estimated Dispatch Date:
04 Dec 2023
Animal Physiology: an Environmental Perspective
Share:
Description
Wild animals survive in a variety of complex environments; they are exposed to predictable and unpredictable changes in their particular environment on a daily or seasonal basis. However, we live in a time when almost all natural environments are undergoing relatively rapid change, and many of these changes, such as the pollution of air and water, removal of natural food sources, environment fragmentation, and climate change, are the result of human activity.
Product Information
ISBN13 (SKU)
9780199655458
Title
Animal Physiology: an Environmental Perspective
Author
P. Butler, A. Brown, G. Stephenson, J. Speakman
Publisher
Oxford University press
Country of Publication
United Kingdom
Institutions
North-West University
Related Products
This product has no related products.