A Compendium of Neuropsychological Tests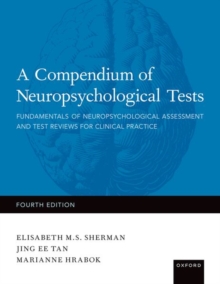 R 3690.00
R 4240.00
SAVE R 550.00
A Compendium of Neuropsychological Tests
Out of Stock
Can Order
Non Refundable
Estimated Dispatch Date:
04 Dec 2023
A Compendium of Neuropsychological Tests
Share:
Description
Compendium of Neuropsychological Tests, Fourth Edition is one of the most well-established reference texts in neuropsychology. This newly-revised, updated, and expanded fourth edition provides a comprehensive overview of essential aspects of neuropsychological practice along with 100 test reviews of well-known neuropsychological tests for adults. The aim of the Compendium is to provide a comprehensive yet practical overview of the state of thefield while also summarizing the evidence on the theoretical background, norms, reliability, and validity of commonly-used neuropsychological tests.
Product Information
ISBN13 (SKU)
9780199856183
Title
A Compendium of Neuropsychological Tests
Publisher
Oxford University press
Country of Publication
United States
Related Products
This product has no related products.