Fundamentals of Mathematical Analysis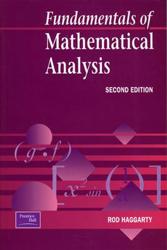 R 1020.00
R 1170.00
SAVE R 150.00
Fundamentals of Mathematical Analysis
Low stock (Online, In Store)
Non Refundable
Estimated Dispatch Date:
30 Nov 2023
Fundamentals of Mathematical Analysis
Share:
Description
Providing students with a clear and understandable introduction to the fundamentals of analysis, this book continues to present the fundamental concepts of analysis in as painless a manner as possible. To achieve this aim, the second edition has made many improvements in exposition.
Product Information
ISBN13 (SKU)
9780201631975
Title
Fundamentals of Mathematical Analysis
Country of Publication
United States
Institutions
UNISA, University of Pretoria
Related Products
This product has no related products.