Reinforced Concrete Design: to Eurocode 2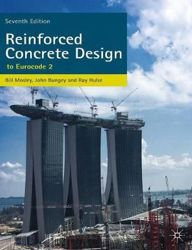 R 940.00
R 1080.00
SAVE R 140.00
Reinforced Concrete Design: to Eurocode 2
W. H. Mosley, R. Hulse, J. H. Bungey
Out of Stock
Can Order
Non Refundable
Estimated Dispatch Date:
15 Dec 2023
Reinforced Concrete Design: to Eurocode 2
Share:
Description
This best-selling textbook provides a straightforward and practical introduction to the principles and methods used in the design of reinforced and prestressed concrete structures, and has been used and trusted by generations of students. The book contains many worked examples to illustrate the various aspects of design that are presented in the text. Design charts, tables and formulae are included as design aids and, for ease of reference, an appendix contains a summary of important design information. This text is aimed at undergraduates and postgraduates as well as practitioners, both in the UK and elsewhere in the world where Eurocode 2 has been adopted, as a concise guide both to the basic theory and to appropriate design procedures.
Product Information
ISBN13 (SKU)
9780230302853
Title
Reinforced Concrete Design: to Eurocode 2
Author
W. H. Mosley, R. Hulse, J. H. Bungey
Country of Publication
United Kingdom
Institutions
University of Pretoria
Related Products
This product has no related products.