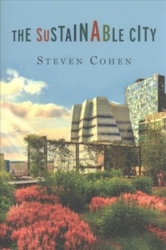 R 720.00
R 830.00
SAVE R 110.00
Out of Stock
Can Order
Non Refundable
Estimated Dispatch Date:
18 Dec 2023
The Sustainable City
Share:
Description
Living sustainably is not just about preserving the wilderness or keeping nature pristine. The transition to a green economy depends on cities. For the first time in human history, the majority of the people on the planet live in urban areas. If we are to avert climate catastrophe, we will need our cities to coexist with nature without destroying it. Many places are already investing in the infrastructure of the future-including renewable energy, energy efficiency, mass and personal transit, and advanced sewage and waste management-but the modern city still has a long way to go. In The Sustainable City, Steven Cohen provides a broad and engaging overview of the urban systems of the twenty-first century, surveying policies and projects already under way in cities around the world and pointing to more ways progress can be made.
Product Information
ISBN13 (SKU)
9780231182058
Title
The Sustainable City
Country of Publication
United States
Related Products
This product has no related products.