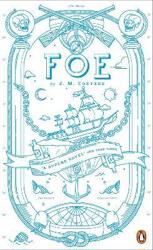 R 190.00
R 220.00
SAVE R 30.00
Out of Stock
Can Order
Non Refundable
Estimated Dispatch Date:
07 Dec 2023
FOE
Share:
Description
Nobel Laureate and two-time Booker prize-winning author of Disgrace and The Life and Times of Michael K, J. M. Coetzee reimagines Daniel DeFoe's classic novel Robinson Crusoe in Foe. Published as a Penguin Essential for the first time. In an act of breathtaking imagination, J.M Coetzee radically reinvents the story of Robinson Crusoe. In the early eighteenth century, Susan Barton finds herself adrift from a mutinous ship and cast ashore on a remote desert island. There she finds shelter with its only other inhabitants: a man named Cruso and his tongueless slave, Friday. In time, she builds a life for herself as Cruso's companion and, eventually, his lover.
Product Information
ISBN13 (SKU)
9780241973691
Publisher
Penguin Random House SA
Country of Publication
United Kingdom
Related Products
This product has no related products.