Workflow Patterns: The Definitive Guide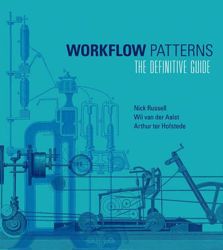 R 1040.00
R 1200.00
SAVE R 160.00
Workflow Patterns: The Definitive Guide
Nick Russell; Wil MP van der Aalst; Arthur HM Ter Hofstede
Out of Stock
Can Order
Non Refundable
Estimated Dispatch Date:
14 Jul 2022
Workflow Patterns: The Definitive Guide
Description
A comprehensive guide to well-known workflow patterns: recurrent, generic business process constructs, described from the control-flow, data, and resource perspectives. The study of business processes has emerged as a highly effective approach to coordinating an organization's complex service- and knowledge-based activities. The growing field of business process management (BPM) focuses on methods and tools for designing, enacting, and analyzing business processes. This volume offers a definitive guide to the use of patterns, which synthesize the wide range of approaches to modeling business processes. It provides a unique and comprehensive introduction to the well-known workflow patterns collection-recurrent, generic constructs describing common business process modeling and execution scenarios, presented in the form of problem-solution dialectics.
Product Information
ISBN13 (SKU)
9780262029827
Title
Workflow Patterns: The Definitive Guide
Author
Nick Russell; Wil MP van der Aalst; Arthur HM Ter Hofstede
Country of Publication
United States
Related Products
This product has no related products.