Problem Solving and Programming Concepts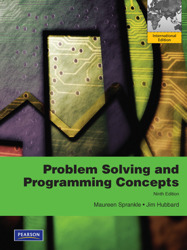 R 1210.00
R 1390.00
SAVE R 180.00
Problem Solving and Programming Concepts
Low stock (Online, In Store)
Stock on the Way
Estimated Dispatch Date:
05 Dec 2023
Problem Solving and Programming Concepts
Share:
Description
A core or supplementary text for one-semester, freshman/sophomore-level introductory courses taken by programming majors in Problem Solving for Programmers, Problem Solving for Applications, any Computer Language Course, or Introduction to Programming. Revised to reflect the most current issues in the programming industry, this widely adopted text emphasizes that problem solving is the same in all computer languages, regardless of syntax. Sprankle and Hubbard use a generic, non-language-specific approach to present the tools and concepts required when using any programming language to develop computer applications.
Product Information
ISBN13 (SKU)
9780273752219
Title
Problem Solving and Programming Concepts
Author
M. Sprankle, J. Hubbard
Country of Publication
United Kingdom