Cutlip and Center's Effective Public Relatations (E-Book)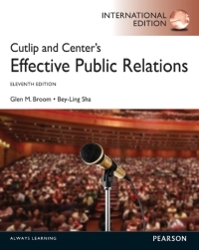 R 730.00
R 840.00
SAVE R 110.00
Cutlip and Center's Effective Public Relatations (E-Book)
Estimated Dispatch Date:
Access Code mailed upon payment confirmation
Cutlip and Center's Effective Public Relatations (E-Book)
Share:
Description
For courses in Introductory Public Relations. Cutlip & Center offers students the gold standard in public relations, providing the most up-to-date reference in the market. Title includes the names of Cutlip and Center in honor of their contribution to the field. Beginning with the first edition in 1952, Effective Public Relations (EPR) has introduced the theory and principles of public relations, schooled its practitioners, and served as a reference for those in the calling worldwide. Scott M. Cutlip and Allen H. Center created the book that made public relations education an academic area of study on university and college campuses, and gave the practice a foundation of knowledge and principles. Many of their ideas and ambitions in the early editions still serve as beacons leading public relations education and practice.
Product Information
ISBN13 (SKU)
9780273775775
Title
Cutlip and Center's Effective Public Relatations
Format Type
E-Book - Vitalsource
Related Products
This product has no related products.