PHP and MySQL Web Development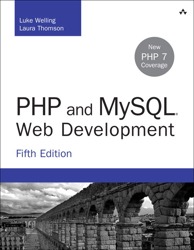 R 790.00
R 910.00
SAVE R 120.00
PHP and MySQL Web Development
Estimated Dispatch Date:
11 Jul 2022
PHP and MySQL Web Development
Share:
Description
PHP and MySQL Web Development, Fifth Edition The definitive guide to building database-driven Web applications with PHP and MySQL PHP and MySQL are popular open-source technologies that are ideal for quickly developing database-driven Web applications. PHP is a powerful scripting language designed to enable developers to create highly featured Web applications quickly, and MySQL is a fast, reliable database that integrates well with PHP and is suited for dynamic Internet-based applications. PHP and MySQL Web Development shows how to use these tools together to produce effective, interactive Web applications. It clearly describes the basics of the PHP language, explains how to set up and work with a MySQL database, and then shows how to use PHP to interact with the database and the server.
Product Information
ISBN13 (SKU)
9780321833891
Title
PHP and MySQL Web Development
Author
L. Welling, L. Thomson
Country of Publication
United States
Institutions
Stadio - School of Information Technology
Related Products
This product has no related products.